TwinCAT settings is missing frequently
Hi comunity,
From time to time, we are facing that many of our colleagues loose the settings that we set previously on TwinCAT settings under VS options, chains, tabs fonts, colors...
Especially the SFC Step implementation and the tabs are miss very often
Did someone face this problem before?

Community Moderator
Re: TwinCAT settings is missing frequently
Losing settings is general problem of Visual Studio (also if you use TwinCAT XAE Shell which is basically a Visual Studio 2017). There are lots of hints in the internet if you search for Visual Studio lost settings.
Hint: You can export and import your settings.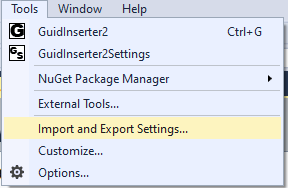 Re: TwinCAT settings is missing frequently
Thanks,
We went for Google before posting but we didn't find any valid solution. You're right Import/Export is the fastest way to recovery the settings. I don't suffer this problem but many people lost his settings almost everyday, all with corporate Pcs and same versions of TC.
I come here just to see if there is a lucky man get the solution. 😉