Member
OpconDesktopInfo.vbs out of memory error
There is a machine which has a problem very often while running. Just like the picture shows blow.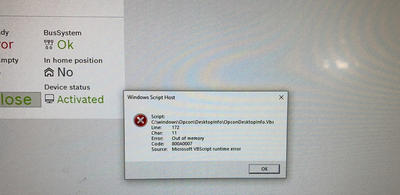 I search this problem on the Internet, this might be something wrong with the viarants array based on web application program?
All the apps we used in this machine are : part counter, event recorder, shift manager and an application developed by ourselves and also used in other machines. Only this machine has such problem.

Community Moderator
Re: OpconDesktopInfo.vbs out of memory error
The script that causes the error message is responsible for printing the system information (hostname, AMS Net Id etc.) onto the desktop. That's not a web application.
When the error message occurs, can you please check using the task manager:
Is the system memory really low?
What's the memory usage of the processes? Is there a process that consumes a lot of memory?