Hi,
I have already read some posts regarding XDK error messages. It is described that the error IDs can be found in XdkCommonInfo.h. I also looked at them.
However, I cannot figure out the enumeration of the IDs. In one post for example the code 114 is Retcode_MQTT_Connect_failed and 119 is Rectoce_MQTT_Connect_Status_Error. When I count through them the Status_Error would be at possition 120. The enumeration is not clear to me. Also the starting number at the beginning.
This leads to the problem, that other error numbers I get don't make sense if I just count through the error code lines.
How can I match the numbers to the error codes. How is the enumeration made? Can I print out the names of the error codes directly?
Thanks, Verena

Occasional Contributor
Hello,
If any Error occurs in the Application, It can be identified in 2 ways,
1. LED Indication - When there is any error, all the 3 LEDS in XDK will glow
2. Error Message will be Posted in XDK Workbench Console
Example of Error message:
INFO | XDK DEVICE 1: Error in XDK110 Application package.
INFO | XDK DEVICE 1: Package ID: 153
INFO | XDK DEVICE 1: Module ID: 53
INFO | XDK DEVICE 1: Severity code: 2
INFO | XDK DEVICE 1: Error code: 12
Where,
Package ID - Refers to which Package this Error has Occured. In this case, Package ID is 153. It is from XDK110 Application.
Module ID - Refers to from which Module this Error has been Raised. In this case Module ID is 53. It is from XDK_COMMON_ID_WLAN (i.e., WLAN Module)
Note: All the Module ID will be listed in "XdkCommonInfo.h" file. You can find enum named "XDK_Common_ModuleID_E", Under that enum there will be list of Module ID available. For Example, If you want to find Module ID of any Module, You can place your Mouse pointer on any module. It will display the ID no.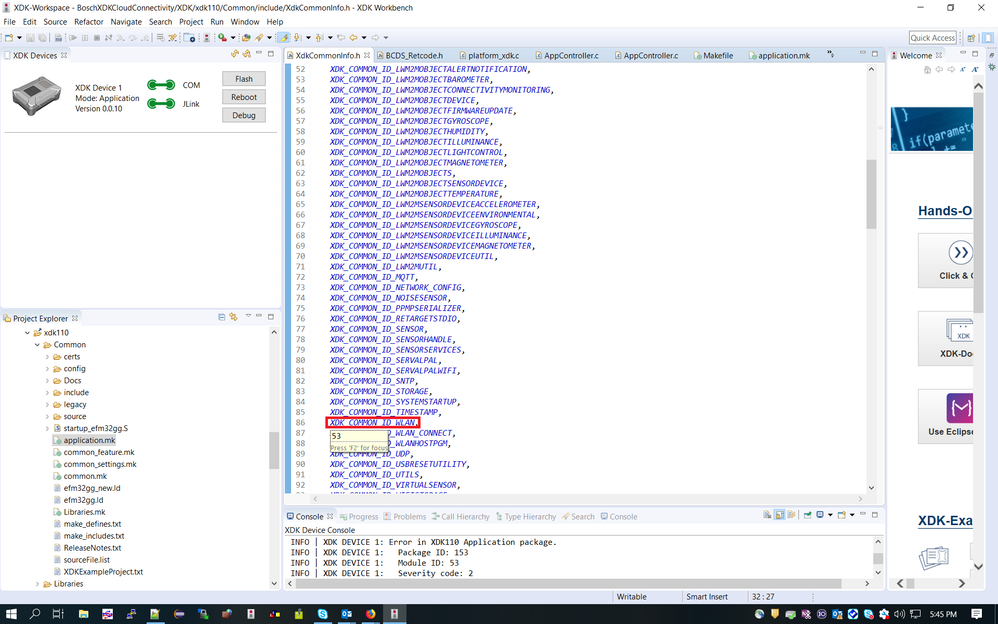 Similarly Severity code and Error Code list will be available in "BCDS_Retcode.h" file.
You can find enum named "Retcode_General_E", Under that enum there will be list of Error code available.
You can find enum named "Retcode_Severity_E", Under that enum there will be list of Severity code available.
Similarly you can place mouse pointer on any Error or Severity code, it will display the no. So that you find which kind of error and what kind of severity the Error is(i.e., Whether it is warning or fatal error,etc)
I hope this answer your question.
If this answers your query, Please accept it as solution or else you if you need more information, you can comment here.
Re: Error Messages at XDK
Thanks that helped a lot.
Verena