Member
Getting disconnected from mqtt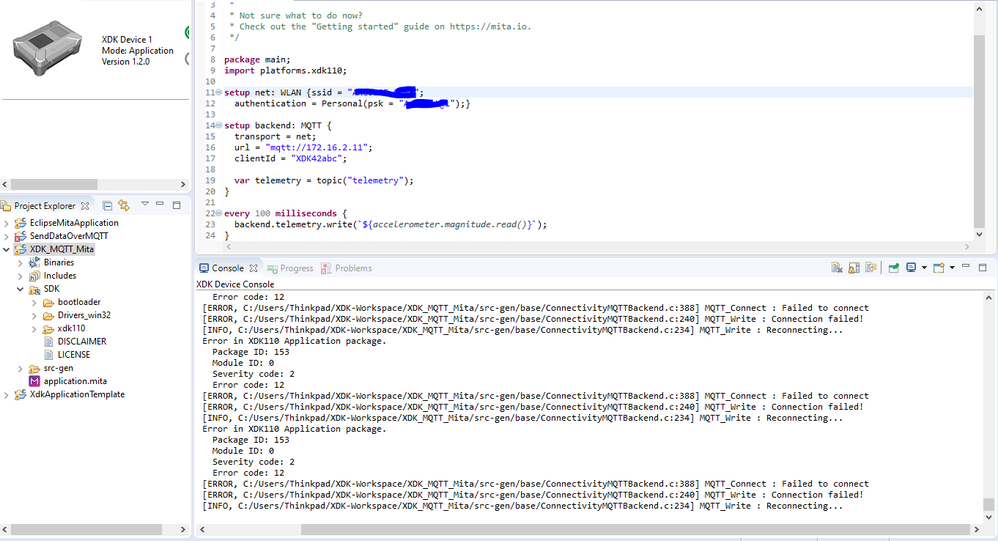 Hi, I'm trying to send the data using mqtt but for some reason its getting disconneted from mqtt whenever it has to send the data. Please check the attached image for code and error message.
Thanks for your time.

Occasional Contributor
Re: Getting disconnected from mqtt
Hello Gautham
The problem could be in your broker setup. I have tested with "test.mosquitto.org" broker.
I am able to send data over mqtt successfully. Please find the code below which I have used for testing,
package main;
import platforms.xdk110;

setup ppWlan : WLAN{
	authentication=Personal(psk = "xxx" );
	ssid = "xxx";
}

setup ppMqtt : MQTT{
	transport = ppWlan;
	url = "mqtt://test.mosquitto.org:1883";
	clientId = "ppMQTT";
	var publishMsg = topic("hello/world");
}

every 100 milliseconds{
	print("Publish sensor data\n");
	ppMqtt.publishMsg.write("sensor data"); 
}
Able to connect to Mqtt broker successfully. Please find the test results below,
 INFO | Connection to port 'COM12' established
 INFO | XDK DEVICE 1: [INFO, C:/Users/mvs5cob/XDK-Workspace/EclipseMitaApplication/src-gen/base/ConnectivityWLANPpWlan.c:98] init WlanNetworkConnect succeeded
 INFO | XDK DEVICE 1: [INFO, C:/Users/mvs5cob/XDK-Workspace/EclipseMitaApplication/src-gen/base/ConnectivityWLANPpWlan.c:113] setting DHCP succeeded
 INFO | XDK DEVICE 1: [INFO, C:/Users/mvs5cob/XDK-Workspace/EclipseMitaApplication/src-gen/base/ConnectivityWLANPpWlan.c:121] Connecting to personal network: honor 7C
 INFO | XDK DEVICE 1: [INFO, C:/Users/mvs5cob/XDK-Workspace/EclipseMitaApplication/src-gen/base/ConnectivityWLANPpWlan.c:155] Connected to WLAN. IP address of this device is: 192.168.43.50
 INFO | XDK DEVICE 1: [INFO, C:/Users/mvs5cob/XDK-Workspace/EclipseMitaApplication/src-gen/main.c:134] enable ConnectivityWLANPpWlan succeeded
 INFO | XDK DEVICE 1: [INFO, C:/Users/mvs5cob/XDK-Workspace/EclipseMitaApplication/src-gen/main.c:144] enable ConnectivityMQTTPpMqtt succeeded
 INFO | XDK DEVICE 1: Publish sensor data
 INFO | XDK DEVICE 1: Publish sensor data
Mqtt connection is automatically Re-established, If the Mqtt connection got failed. Please find the test results below,
 INFO | XDK DEVICE 1: Publish sensor data
 INFO | XDK DEVICE 1: [INFO, C:/Users/mvs5cob/XDK-Workspace/EclipseMitaApplication/src-gen/base/ConnectivityMQTTPpMqtt.c:234] MQTT_Write : Reconnecting...
 INFO | XDK DEVICE 1: 	Package ID: 153
 INFO | XDK DEVICE 1: 	Module ID: 0
 INFO | XDK DEVICE 1: 	Severity code: 2
 INFO | XDK DEVICE 1: 	Error code: 12
 INFO | XDK DEVICE 1: [ERROR, C:/Users/mvs5cob/XDK-Workspace/EclipseMitaApplication/src-gen/base/ConnectivityMQTTPpMqtt.c:388] MQTT_Connect : Failed to connect
 INFO | XDK DEVICE 1: [ERROR, C:/Users/mvs5cob/XDK-Workspace/EclipseMitaApplication/src-gen/base/ConnectivityMQTTPpMqtt.c:240] MQTT_Write : Connection failed!
 INFO | XDK DEVICE 1: Publish sensor data
 INFO | XDK DEVICE 1: [INFO, C:/Users/mvs5cob/XDK-Workspace/EclipseMitaApplication/src-gen/base/ConnectivityMQTTPpMqtt.c:234] MQTT_Write : Reconnecting...
 INFO | XDK DEVICE 1: [INFO, C:/Users/mvs5cob/XDK-Workspace/EclipseMitaApplication/src-gen/base/ConnectivityMQTTPpMqtt.c:237] MQTT_Write : Connected.
 INFO | XDK DEVICE 1: Publish sensor data
 INFO | XDK DEVICE 1: [INFO, C:/Users/mvs5cob/XDK-Workspace/EclipseMitaApplication/src-gen/base/ConnectivityMQTTPpMqtt.c:237] MQTT_Write : Connected.
 INFO | XDK DEVICE 1: Publish sensor data
 INFO | XDK DEVICE 1: Publish sensor data