RotTableDrive: Target position of rotary table not reached (InPos error)
Options
Mark as New

Mark as Read

Bookmark

Subscribe
Symptoms
Although the rotary table with the object NexeedRotTableDrive reaches the target nest position a position error occurs:


When we increased the settling time parameter of the object the error occured less and less:


But due to a critical cycle time this was no solution.
Diagnosis
The customer has ordered our coaching support so we were able to check the problem in detail.
The position range in the object was ok and had only a little effect:

The same applies for the standstill window in the IndraDrive:

So finally we started a scope measurement and then it was quite obviously: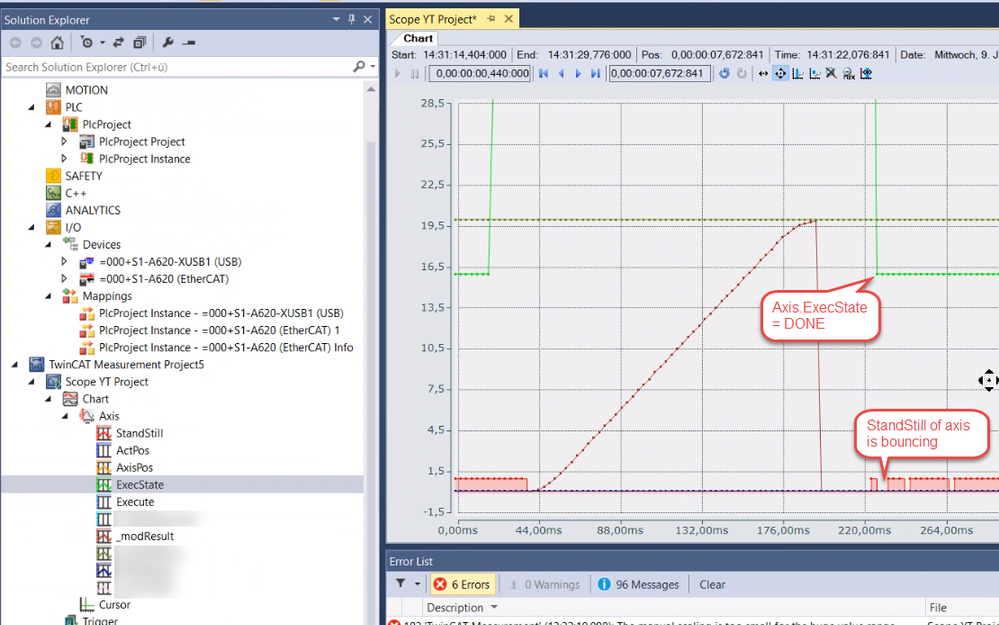 Solution
The IndraDrive had to be optimized with IndraWorks. In this case especially the jerk settings were bad.
Now everything runs fine without settling time.
The condition for "in position" of NexeedRotTableDrive V2.3.6.0:
_modResult := MOD(_axisPos, _nestDistance);
OutImm.InPos :=
( ( _modResult < _parCfg.InPosRange ) OR
( ABS(_modResult - _nestDistance) <= _parCfg.InPosRange ) ) AND
( _axis.OutImm.AxisInReference ) AND
( _axis.OutImm.StandStill );