Hello together.
We have some issue when we are trying to open windows from HMI configuration from OES
What we observed is that in the Smart Toolbox area are less tools like before.
The issue appeared after we moved the projects to another location. We mapped the folder which contains the projects to our server where we have installed OES and TwinCat.
The issue looks the same with the one presented here but at our case isn't Opcon Plus Studio. https://community.developer.bosch.com/t5/Control-plus/Problem-opening-views-in-Control-Plus-Studio/m...
below find a image :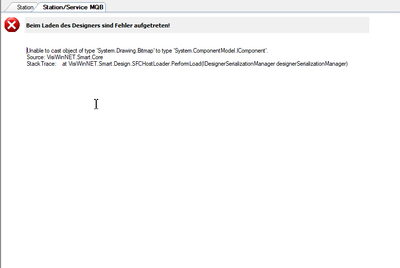 Thank you 🙂

Community Moderator
Re: issue at opening views in OES
The error message does really look similar to the one from the post you linked. OES and Control plus Studio are very similar, so my first question is also the same as in the other post:
Does the project contain the folder Std\HMImodulo_V4_x (where x must match the OES version you are using)? Does this folder contain the correct HMI modulo version?
Hello,
Thanks for your response,
The answer for your question is yes!
How I said the issue appeared after we moved the projects to other location from our servers, where we have install OES, TwinCat...
If we moved the project or the projects back to old location(servers) the issue doesent appear
Rest of functionalities of the OES or TwinCat doesn't look to be affected.
Thank you