Hello all,
We have a doubt regarding CX2033 system.
On Nexeed documentation descrives that the system includes an internal UPS.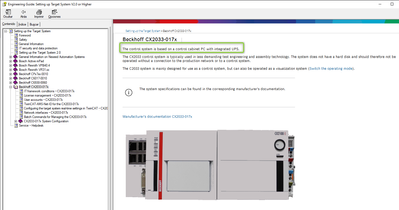 ...But on Beckhoff documentation we see the following info: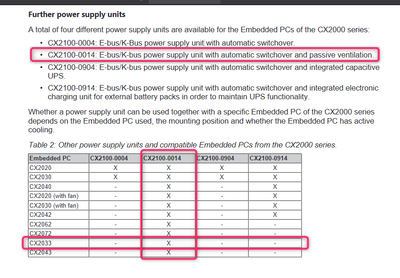 Even in Beckhoff website doesn't apprear any integrated ups as an option.
Is Beckhoff information right?
Can we use it with CU8130-0120 ? That is the one that Beckoff recomend.
That means that we have to installl manually the driver and OpConUPS service.
Thanks and best regards.
You are right, the wording in the documentation (and the catalog) is not correct. The UPS of the CX2033 is not internal or integrated. What this should say is that the CX2100 UPS is included when you order a CX2033 at BCI.
We do not support any other Beckhoff UPS devices.
Hi,
Thakns for your quick answer, but i'm didn't get you.Which catalog and ducumentation is wrong Beckhoff or Nexeed?
As I undertood the oldCX2020 comming with power supply CX2100-0904 (PowerSupply with internal UPS)
The CX2033 is only capable with CX2100-0014 that is power supply without UPS, thats is what Beckhoff prescribes. Then, which is the UPS that BCI provide with CX2033? Schneider USV? or may be UPS is not needed in CX2033?
Thanks
Sorry, I had really missed your point.
The Beckhoff documentation is indeed not up-to-date. In the meantime, the Beckhoff CX2033 got a firmware update so it does work with the CX2100-0904. That is what you will get when ordering a CX2033 from BCI.
What I meant is that the BCI docs could be a bit more clear about this. The UPS is not integrated in the CX2033 but in the CX2100-0904.